Atomic Tanks Review
Continue talking about small casual games… Atanks or Atomic Tanks is remake of good old Scorched Earth (or simply Tanks) PC game from the early 80's. Its gameplay and graphics doesn't changed from these days. You just have more than 16 colors now and a little different, nicer look of units and weapons.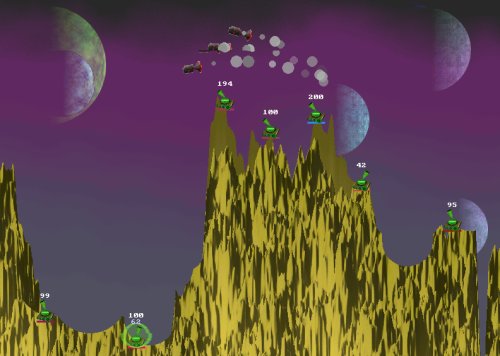 Deadly Armageddon is coming.
As in early 80's you can enjoy playing against up to 9 AI or human enemies. Hot seat only – there is no network support. And it's not needed, hot seat mode will bring you much more fun, believe me.
Aiming your tank's cannon and setting up the shot power you need to annihilate all your enemies before they do. To protect your tiny tank, use one of three kinds of armor and powershields. You will receive some money to buy the weapons, armor and special things like parachutes and teleports when starting new game. Earn more by hitting the opponents and spend wisely on the beginning of each next turn.
The choice of weapons can be purchased during the game is really wide. From the cost nothing small missiles to the $100G hell deadly Armageddon – three massive nuke heads. Can be useful for playing an insane Atomic Russian Roulette if you'll fire them just up to the sky. Some of the weapons are pretty useless and some are quite funny. You can bury your enemy under a pile of some sort of green goo or roll him over with a Wheel of Death.
Personally, I prefer nuclear weapon. Powerful, deadly, leave nothing alive. Yeah, it sounds like I'm a kind of bloodthirsty atomic freak: "I can no longer sit back and allow Communist infiltration, Communist indoctrination, Communist subversion and the international Communist conspiracy to sap and impurify all of our precious bodily fluids." But the show is worth it.
Download Atomic Tanks here for Windows, Linux or MacOS. It's OpenSource and therefore absolutely free.