Biggest carp ever was caught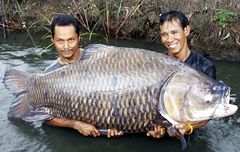 World Record Academy reported the biggest carp ever was caught in Thailand. Fisherman Kik from the local travel company Jean-Francois Helias' Fishing Adventures has caught the 265 pounds (120kg) sweet-water fish on a specially developed rod in the Bung Sam Lan lake.
Siamese Giant Carp is one of the biggest sweet-water fish in the world along with Mekong Catfish and Beluga (river salmon). But Beluga fishing is strictly prohibited this days.
Some times salt-water big fish could be caught in the river. Like those shark in St. Petersburg.