Environment friendly portable wind up media player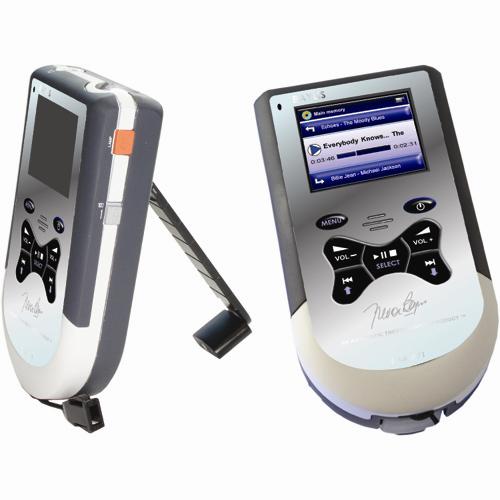 Eco Media Player designed by the British manufacturer Trevor Baylis Brands is one of the first wind up mp3 player available. Yet it could be charged via USB connection as any other mp3 player on todays market, you won't ran out of juice being in countryside (or somewhere) away from you laptop or desktop PC.
Besides the wind up handle on the back this great gadget has a load more features:
It could act as an USB mass storage device so you can use it as external storage, transfer files of any kind back and forth, navigate using built-in file navigation software of your favorite operating system.
It can play mp4 movies.
It has built-in FM radio with the ability to record FM broadcasts.
It can be used for voice recordings thanks to built-in microphone.
It's equipped with stereo line-in jack so you can make recordings from any analogue devices like tape decks or vinyl turntables.
Built-in powerful high brightness LED torch will help in total darkness.
You can read electronic books… but reading a lot on the not as big 1.8" TFT screen could be harmfull for your eyesight.
You even can charge your mobile phone using appropriate connector.
What's not good about this undoubtedly awesome device is it's price – £169.99 – more than $300 U.S. dollars. I think it's too much for a mp3 player. You can get AA's or Li-Ion powered mp3 player for five times less today. But, of cause, AA's and Li-Ion accus are not so environmentally friendly than ECO-dynamo system.