Gasoline Prices Around The Globe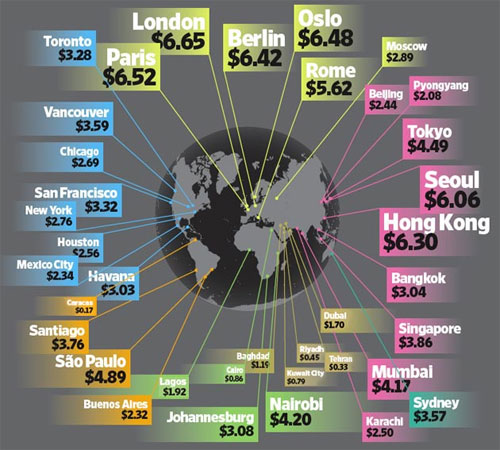 Gasoline prices in the major capital cities. Per gallon, in US dollars.
As you can see on the chart above, gasoline prices in the world are quite different. Londoners have the most expensive gas on the planet, what is quite explainable for the island with a high standards of living. Fortunately, their distances are shorter than ones in America or, exempli gratia, Brazil.
Also explainable that the lowest gasoline prices are in Caracas and Tehran, because Venezuela and Iran are among the major oil exporters. But what's strange – the gas prices in Moscow and Lagos. Both Russia and Nigeria exports a lot of oil and have the pretty stable economy (at least, in comparison with Iraq, where the gas is half cheaper).
And how much is gasoline in your area?