Japanese snow monkeys
Monkeys are humans' closest relatives on the tree of life. Humans and chimpanzees, for instance, are sharing 97.6% of their genome. Macaques—that's how the Japanese snow monkeys are called scientifically—are little bit more distant, it means they are sharing less genetic code with humans, but it doesn't means they look really different.
Among all primates only humans and Japanese macaques are living in the areas cold enough to be covered in snow for the whole winter. This isn't a big deal for the modern humans who can use all the Columbia outwear, electric faux fireplaces and the tons of hot coffee. For the little monkeys living in the snows of the mild but still snowy and quite cold Japanese winter their fur is the only protection from the freezing temperatures.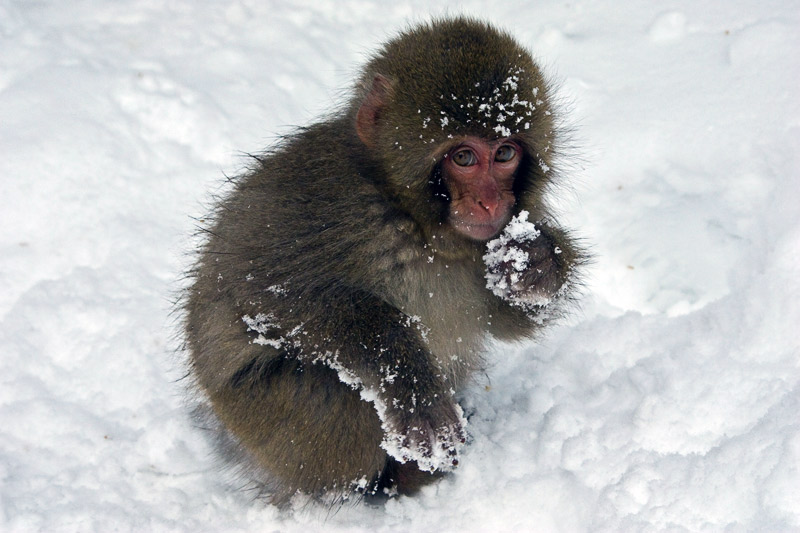 Fortunately, primates won't be primates if they wouldn't come up with something. And the snow monkeys indeed come up. Japan is the land of the pretty nasty volcanic activity. It causes a lot of troubles for all the islands dweller sometimes, like a year ago, but most of the time the byproducts of the high seismic activity are as peaceful as the hot springs.
Humans began using the hot springs for bathing as early as they've first arrived to the Japanese islands. Macaques, on some stage, have picked this habit from humans and began bathing in the hot springs themselves. The only difference is that they do it to escape the cold weather rather that for the hygienic purposes.