Mercedes hunting base camp
Two Mongolian oligarchs have ordered two custom made Mercedes Zetros 2733 trucks. Being the huge fans of the wolf hunting in the vast snow-clad plains of Mongolia they have made these trucks the ultimate hunting base camps on wheels.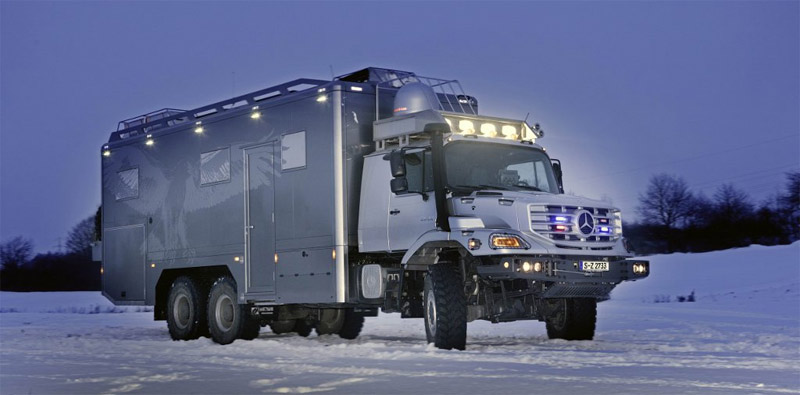 The walls of these six-wheeled houses are made of the two inches thick high-tech multi-layered panels. The roof and the floor (with heating system) are four inches (10cm) thick.
It's fun to race around the flat snowy steppe on the fast quadrocycle—the Mercedes engineers know about it, so they built-in a tiny garage into the truck, where the quadrocycle is stored.
Inside you can find everything anyone could ever wish to take with him on the wolf hunt. The kitchen made of wood and marble is densely packed with the most state-of-the-art kitchen stuff.
The full heights shower cubicle has the floor heating. As well as the floor in the bedroom, where you can notice huge LCD panel right above the really spacious bed.
The whole truck is Wi-Fi enabled with the satellite internet on-board. So if you don't want to use built-in Mac Mini, you can browse web in the middle of Mongolian steppe on your own notebook or iPhone.
The price have not been disclosed but there are some rumors saying that the Mongolians have paid 1.7 million euros for both trucks. This is more that million US dollars each.