Wanna sleep with Google? Than you'll like it.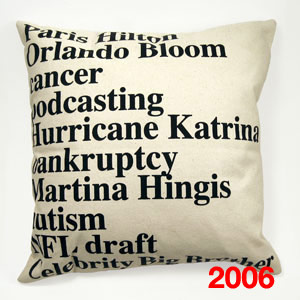 Designer Elodie Blanchard has some Google inspired cushions for you. Each of them has Top 10 searches printed on – for the year 2006 (Paris Hilton, Orlando Bloom, podcasting…), 2005 (Janet Jackson, Hurricane Katrina, Tsunami…) and 2003 (Britney Spears, Harry Potter, Shakira..)
Edition 2003 is really limited – just 5 copies available for $250 each. 2005 and 2006 are more affordable and not so unique with 250 copies of each year. Each cushion is personally signed by Elodie Blanchard and numbered.