Plasma Pong
Perhaps, you used to be playing any variation of computer ping-pong game. There were (and actually, there are) plenty of them, for any kind of platforms from big Unix machines to first personal Sinclair-like computers and ancient gaming consoles. Perhaps, you are even have some kind of ping-pong on your current mobile phone or hand-held PC. But the game I want to introduce you, being quite similar to good old ping-pong's of the late 70's, is still have it's own smell – the smell of the fluid dynamics.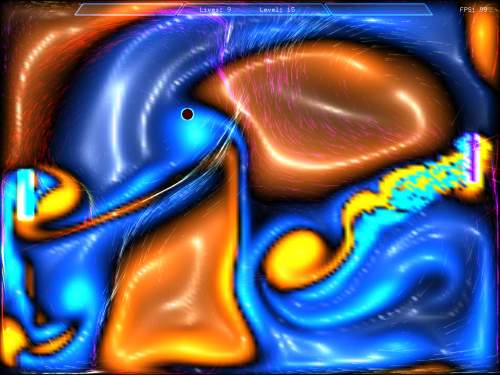 In Plasma Pong the ball is floating back and forth inside the abstract and surrealistic world of physics of fluids. And your bat now not well known sticky one but could blast shockwaves, inject plasma fluid and even create a vacuum to pull the ball back.
As you can see on the screenshot above, the game field have a stunning, colorful fractals-like look. The music, as intro as the game's itself, makes the gameplay way more surrealistic.
Controls are pretty simple and you needn't to get used to. All actions with bat could be performed with mouse. But prepare for ball getting more and more reactive and the game getting more and more speedier as your level grows.
Well, high quality graphics and very complicated physics algorithm will not allow to play this game on the old PC, but moderately modern Pentium IV 2,0GHz (or its analogues) machine would be enough.
Here you can download the latest version of Plasma Pong for Windows XP/Vista or Mac (Intel or PowerPC). And last but not least, Plasma Pong is absolutely free.