Quickest electric drag bike
KillaCycle is currently the quickest electric drag bike in the world. It could run 1/4 mile in 8.168 second @ 155.78 MPH (250 km/h).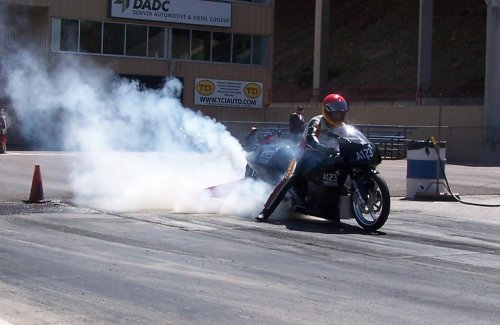 KillaCycle is powered by 990 Lithium Ion batteries like those in your mobile phone or iPod just a little bigger, more powerful and a way more expensive. The battery pack weighs just 180 pounds (81 kilograms) and the entire bike – 619 pounds (280 kilograms). Not much for 390 horsepower electric motorbike.
Another thing that differs KillaCycle's batteries from your mobile's one is recharging time. With the special charger all batteries could be recharged in 10 minutes. KillaCycle could make 7 or more runs on one charge.
Of cause, this bike is built for speed not endurance and the Zero to 60 MPH in 1.04 seconds is worth it. But it's obviously not a long run performer.
If you search for something more suitable real life look for Enertia electric bike next year. It will run 70 miles @ 60 MPH on one charge and will cost you $10G – pretty reasonable in our ever growing gas prices era.