Reinebringen peak, Lofoten islands
Reinebringen is the picturesque mountain on the Moskenes island in the Lofoten archipelago in the North-West part of Norway. When you find the secret passage, hidden in the bushes, which leads to the dried bed of the stream, you can climb to the top of the mountain, onto the bluff, hanging high above the Reine village. The way up is really steep but the postcard-perfect scenery totally worth the efforts.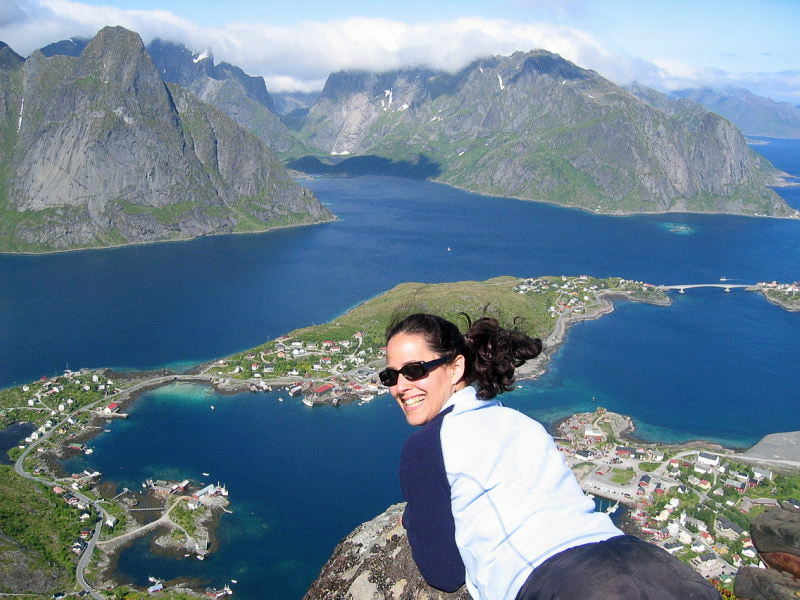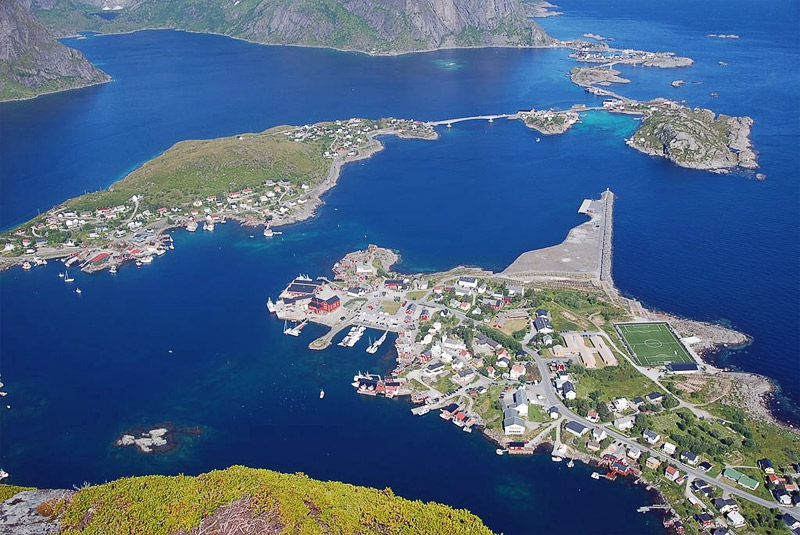 The view of the Reine village from the top of Reinebringen peak. When you get there you will feel the urge to grab the rock with your hands. The opening scenery is overwhelming and a little bit frightening.
Ten facts about Reinebringen and Lofoten
1. The Reinebringen mountain is just four hundred meters high (about 1,000 feet). Which doesn't make the view opening from its top less terrific.
2. The proper Norwegian pronunciation of the mountain's name, Reinebringen, sounds like Rye neh bring en.
3. The permanent population of the Reine village is just 342 people. However, tens of thousands of tourists flock the village each Summer.
4. The villagers mostly occupied in fishing and whaling. The latter make them easy target for the Greenpeace and other violent environmentalist groups.
5. In Winter, when there are no hordes of tourists flowing through the village, the Reine inhabitants never lock their houses.
6. The climate on the Lofoten islands is very mild for the place so far beyond the Arctic Circle. This is the world's most strongest positive temperature/latitude anomaly.
7. On the northern islands of archipelago the sun is always above the horizon from May 25 to July 17. The phenomenon commonly known as Midnatsol.
8. Lofoten islands have two pretty well known villages. The first one, Reine, is popular due to its spectacular views of the Reinebringen bluff. The second—due to its name—A. This is one of the few settlements in the world with the world's shortest names. A (pronounced [o:]) means stream in Norwegian.
9. Among the most popular activities on Lofoten islands are biking and kayaking. You can rent a bike for 150 Norwegian Kroner (about 27 US dollars) and a sea grade kayak for about 400 Kroner (73 US dollars) per day.
10. You can stay in various Hostels or Bed & Breakfast facilities around Reine and other Lofoten villages for 400 Kroner (73 US dollars) per night.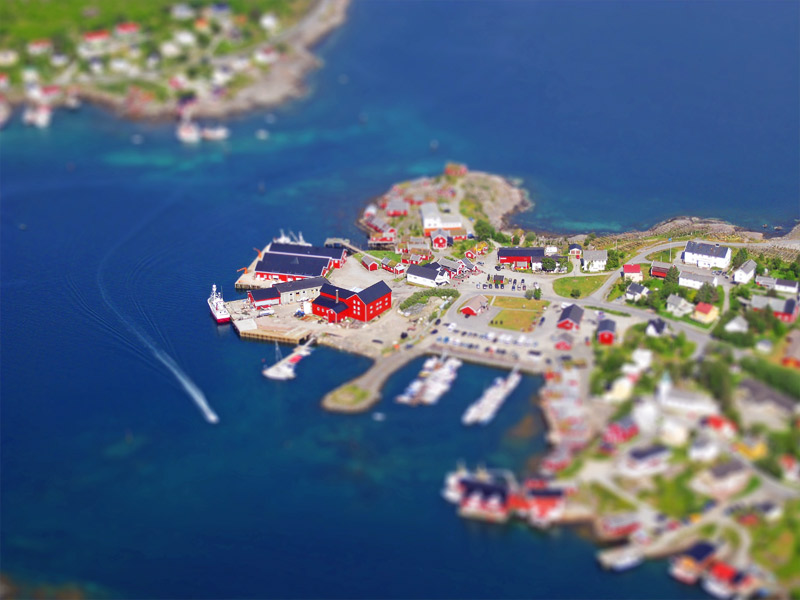 The Reine willage shot from the Reinebringen bluff with the tilt-shif lens.