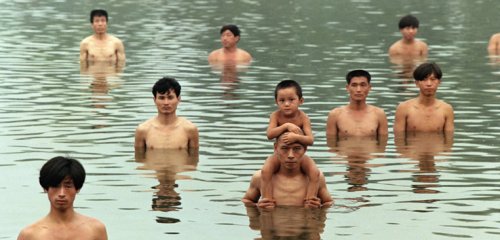 "Some people ask me: "You are Buddhist?" Inside, I'm a Buddhist; outside, I'm an artist. You know, Buddhism emphasizes Buddha should always exist in your mind." © Zhang Huan
Zhang Huan – contemporary American (native Chinese) photographer, painter, sculptor and performance artist. His works, which you can find at his website, are strange and eclectic… made with Buddha in mind.
One of Zhang Huan installations – "Peace" – is a bronze copy of the artist nude hangs horizontally in front of large bronze bell. When the viewer pushes the body towards bell the loud bong running through the gallery. In his "My Boston" series a man pictured with a huge book wrapped around his neck.