Zimbabwe Inflation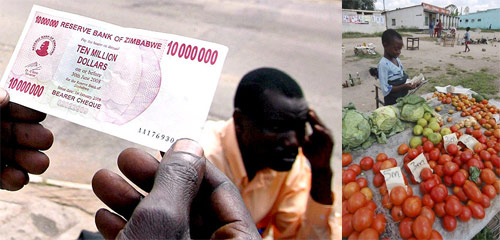 10 million Zimbabwean dollars and the grocery market prices in Harare. Photos by Bishop Asare / EFE and Reuters respectively.
Being under the Mugabe's regime for over a twenty years Zimbabwe (a not so small and pretty populated African country situated to the north of South Africa) experienced the most crazy inflation in XXI century word. In the March, 2008 the black market price of the US dollar jumps from 25 million Zimbabwean dollars to almost 90 million!
On Thursday, I bought a chicken burger for my lunch which cost me 30m Zimbabwean dollars [less than $1 on the black market].

Then I tried to buy the same on Friday. But it was going for $95m. The price had more than tripled in less than 24 hours.

…

It is so extremely expensive – it is just ridiculous. I haven't been able to get away from work and take time off recently to go shopping in South Africa… sounds fancy but it's not!

What I do, like many others, is buy a one-way ticket to Johannesburg. Normally I'd go on a Thursday evening after work. Then, once I'm there I shop, shop, shop – for basics though! Things like sugar, salt, toilet tissue, pasta, rice…

Then because you're so overloaded with stuff you can't fly back so we get a night bus back to Harare.
Officially, one U.S dollar is worth about 30,000 Zimbabwean dollars. As of last week the real price on the black market was about 35 million dollars, or 1,166 times the official rate. The bill for a simple meal I shared with five other people at an unassuming cafe in Zimbabwe last week came to 581 million Zimbabwean dollars. The black market value: US$21. If I had paid according to the bank's rate? US$19,366.